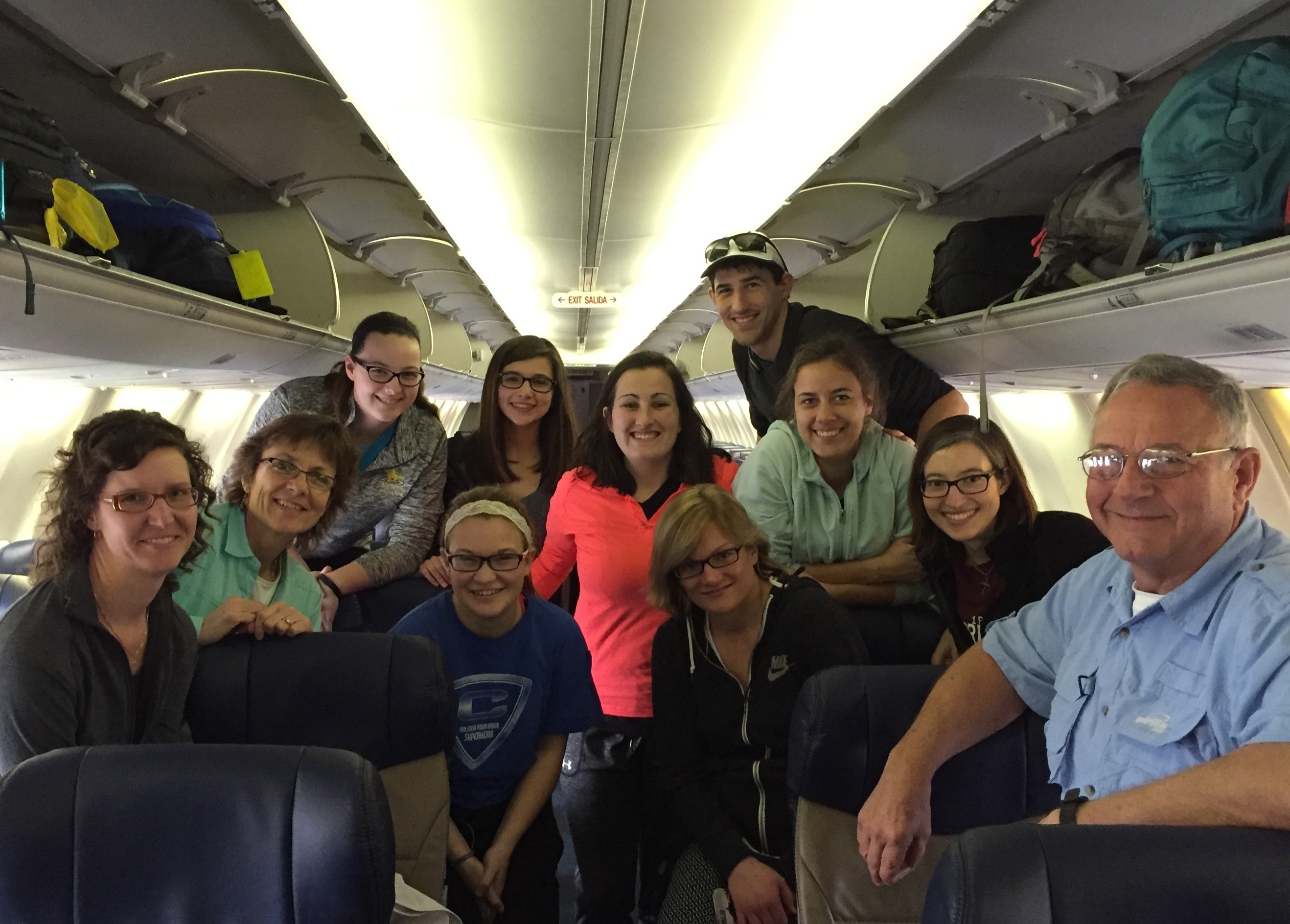 April showers bring May flowers, or so they say. They also ring in major summer mission trip anxiety, in many cases! If you read my first blog post, featuring eight mission trip planning considerations, you're ahead of the game. But soon your aircraft will begin its initial descent, or your vanload of groggy passengers will get their second wind when they see your exit on a road sign. Then what? Abiding by these tips will help ensure that you bloom wherever God has planted you!
Pray. The importance of regular communication with our heavenly Father doesn't end with the plop of your suitcase on a bunk bed. Begin each day by committing your labors to the Lord. Ask for volunteers to lead mealtime prayers. Wind down each evening with a circle or popcorn prayer.
Try new things. Ever used a circular saw before? Gone door to door passing out evangelistic tracts? Eaten [insert local delicacy here]? Now's your chance to expand your horizons!
Get to know people. You can't help but bond with someone you've only passed in the church lobby when you're covered in drywall dust together! But don't stop there. It's also a good idea to engage with new people: your driver, the proprietor of the corner store where you get your daily Diet Coke fix, the wallflower at your VBS, the mother of the family whose trailer you're painting. Idle chatter seems . . . idle, but reflecting Christ in the context of genuine conversation is the Gospel in action.
R-E-S-P-E-C-T. You're the guest, so heeding local norms is imperative. Below-the-knee skirts instead of cutoffs? OK. Mixing cement in batches on the ground instead of barging in with a monster truck of the stuff? Great. Paul, Scripture's most prolific missionary, explains: "For though I am free from all, I have made myself a servant to all, that I might win more of them" (1 Corinthians 9:19).
Take care of yourself. Mission trips are physically and mentally grueling, and they often take place in extreme weather. Build some downtime into your daily schedule. Wear sunscreen. Drink water. Reapply your sunscreen. Drink MORE water (if you're thirsty, you're already dehydrated!). Fuel your body with a balanced diet, and pack snacks if local cuisine is a concern.
Document your trip. Take a variety of pictures: scenic views, ones with just you in them, posed and candid clusters of team members performing various activities, your living quarters, even what you ate. Make sure to get at least one good group shot. Your loved ones will want to live vicariously through your lens, and chances are you'll compile a scrapbook or presentation. If you brought any donations along, such as items requested using our convenient Mission Teams Gift Registry Starter, be sure to capture them in action! I recommend journaling also. You think you'll remember the name of the guitarist who blew you away during worship or that exotic fruit you sampled, but you won't. Jot down important details, thoughts, feelings, prayer requests, and the like on paper.
Maintain regular communication with family members and supporters. Unless you've committed to a tech-free trip so you can focus on growing closer to the Lord without distraction (more power to you!) or will have limited connectivity, this should be an easy one. People back home want to see their prayers, and their dollars, at work. Maintain a trip blog or Facebook group, send daily email summaries (with pictures from #6!), or just give Mom or the hubby a ring and let them know you haven't contracted a tropical illness.
Be flexible, flexible, flexible! God is bigger than any circumstance that seemingly throws a wrench in your plans. The Psalms speak to his divine wisdom and providence time and time again; here's one of many comforting reminders: "Commit your way to the Lord; trust in him, and he will act" (Psalm 37:5).
Do you have any tried and true advice? And oh, the stories you'll have when you get back—we'd love to hear those too! Still have room in your luggage? Scroll through the Spanish Outreach Essentials Quick Order Form and see what else you can squeeze into that empty front pocket of your roller bag. Finally, look for the blog post that'll conclude this series—pointers for your transition back to the demands of everyday life—in a few months. For now, Godspeed! "Be strong and courageous. Do not fear or be in dread of them, for it is the Lord your God who goes with you. He will not leave you or forsake you" (Deuteronomy 31:6).
Scripture: ESV®.
---