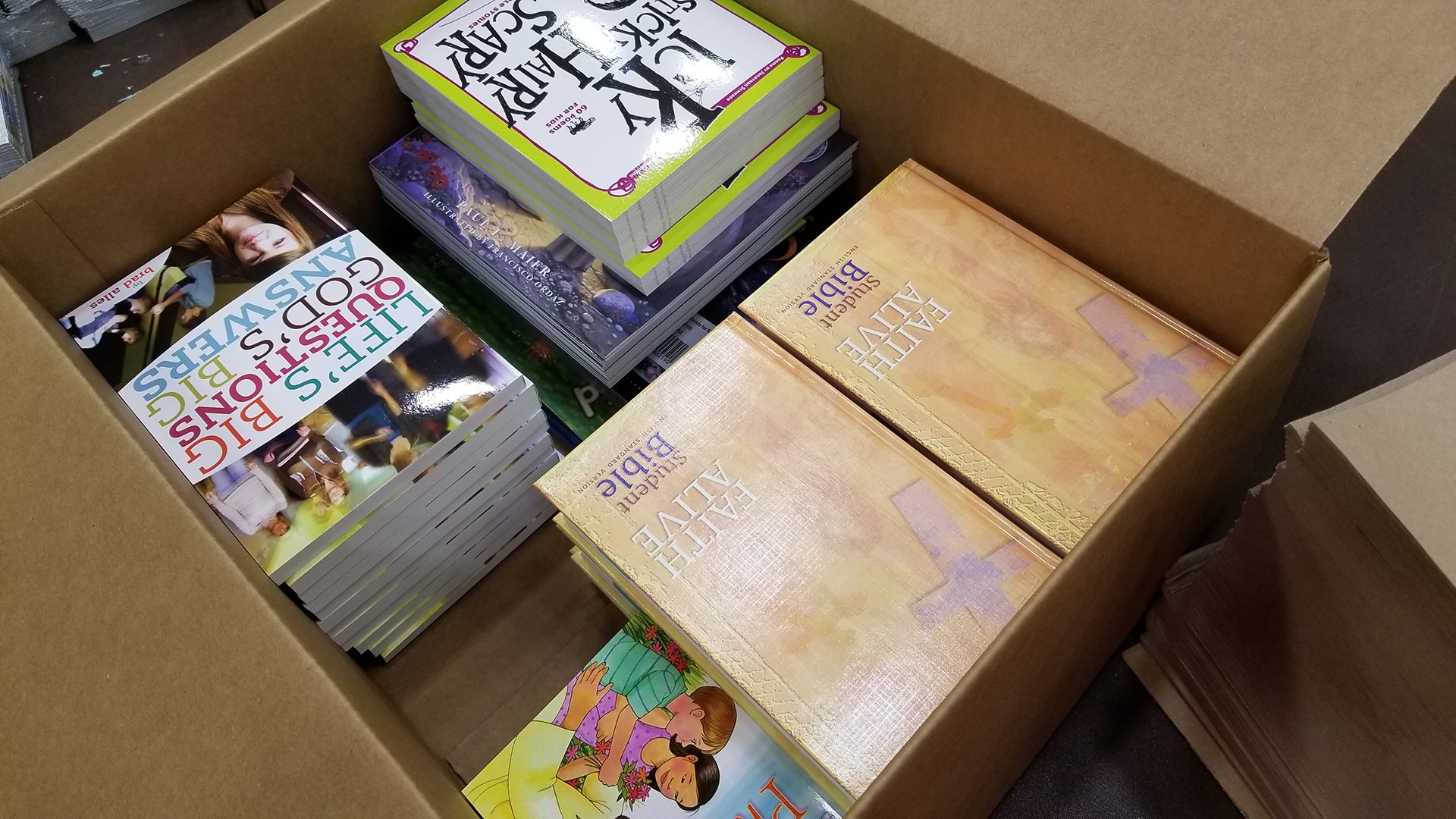 Imagine asking 22,000 youth to take roughly twenty to thirty minutes, or even more, out of their busy National Youth Gathering schedule—a trip they've planned for and anticipated for years—to pack boxes with forty pounds of books each. And not one box but many. And more. And more and more. And then to stack those boxes on pallets so they can be sent to complete strangers throughout the United States. Easy, right? They'd jump at the opportunity, wouldn't they? Well, they would—and they did!
Recently, several of us from Concordia Publishing House attended the 2019 National Youth Gathering (NYG) in Minneapolis. We had the pleasure of working side-by-side with our fellow LCMS youth and adult leaders during a service project opportunity at the Gathering. Service projects are a standard part of NYG, and the Gathering offers many opportunities for youth to put their faith in action. But this year's Concordia Gospel Outreach service project was a bit different.
Concordia Gospel Outreach (CGO) is the charity arm of CPH. It exists to spread the Gospel to all parts of the world. For this year's NYG, CGO and the LCMS Youth Ministry team had the weighty idea of spreading God's love and God's Word to unchurched people in communities throughout the US, to introduce and glorify a Real. Present. God. Our project was named "Sharing God's Mighty Word."
Thanks to everyone who helped, in the course of just three days, we loaded over twenty-six tons of books and stacked fifty pallets. As they ensured that over 15,000 boxes were packed, palletized, and shipped to the 1,500 congregations represented at NYG, youth from across the nation learned about their Real. Present. God. Perhaps your church has received one of these boxes?
What made the CGO booth at this year's NYG so unique was its organic nature. Each day, we didn't know who or how many groups would be helping. We had a goal in mind of how many pallets we needed to load to meet our mission, and we relied on the youth to step in and make it happen. But the CGO booth was located away from the other service-project booths and tucked behind a food stand. At first, we were a bit concerned that we weren't getting much foot traffic. Then something big happened: a group of youth stopped by and started packing in our assembly line. Then another. And then another. With each subsequent group, excitement built and word of mouth spread as our helpers realized they were sending life-changing resources to their own communities and that they were making a difference.
Each box the youth packed included half a dozen copies of the Faith Alive Bible and Icky Sticky, Hairy Scary Bible Stories; a dozen copies of I Will Not Be Afraid; The Very First Easter; Life's Big Questions, God's Big Answers; The Story of Creation Arch Book; and The Lord's Prayer Mini Arch Book; a ten-pack of The Work of His Hands for Kids; and a twenty-pack of A Simple Explanation of Christianity—a value in resources of over $650 per box.
Many of the youth had grown up with their own copies of the Faith Alive Bible. They were excited to be able to share this Bible and other familiar books with kids in their own neighborhoods. At times, our booth was so full of youth working that we had to turn away incoming volunteers and ask them to come back later (which they did—thanks!). We were serenaded with the Doxology; had friendly competitions to see which group could pack the most boxes; shared our progress on social media; kept a running total each day to beat; had a number of folks pop in and work for five, ten, or fifteen minutes; and even had a few groups come back for return visits!
At the end of the Gathering, we accomplished our mission, and now God's Word is being spread to 1,500 churches far and wide. Once delivered, these books can be shared to youth of all ages and their parents. We pray that these resources are a blessing to those who receive them in your community. We'd love to hear how you're using the materials in the CGO box you receive. Take some pictures and send us a note.
Most important, though, none of this could have happened without the hard work and support of the NYG youth and their adult leaders, as well as those who generously support Concordia Gospel Outreach with their financial contributions. We are so grateful for the opportunity and we are greatly encouraged by our LCMS youth. You are real. You are present. And you glorify God!
---
Your donations help CGO send Bible-based literature to individuals and organizations that are striving to connect people with the Gospel.