Just a few weeks ago, stories of Nebraska flooded headlines around the United States. The combination of melting snow, heavy rain, and flat farmland resulted in catastrophic flooding across hundreds of miles of the state.
But now, nearly a month after the devastation originally occurred, the press coverage of the flooding has dried up—but the water hasn't.
Lasting Damage
While the waters have receded, the damage can't be reversed that quickly. In a state that relies on agriculture, the physical damage is catastrophic. Cattle died in the floodwaters, farm machinery was rendered unusable, newly planted crops were wiped out, and even the farmland itself was changed by the sandy soil composition that was stirred up in the waters.
The damage extended to those who don't live on farms or ranches—standing water provided a breeding ground for mold in houses, small businesses in floodplains took a big hit, and waterlogged cars wouldn't start even after the waters had receded. Roads and bridges were so damaged by the flooding that many are still closed, and the reconstruction process could go on for many months.
Author Deb Burma found herself in a unique Nebraskan situation. Her house was fine, their church was intact, and the city proper was free from flooded streets—but the surrounding rural communities were covered in water, making Columbus, Nebraska, an island.
"We weren't in catastrophic ruins like our rural counterparts, so we're on the end of 'This could have been us, but it wasn't. So how can we help you?'"
Neighbor to Neighbor
The three LCMS churches in Columbus were free from flood damage, but they didn't take this as an opportunity to just say a prayer of thanksgiving and move on.
"We're just called to be Jesus' hands and feet," said Deb. "The rubber meets the road for us right now."
These and other area churches banded together to create a donation collection site and distribution center. Originally based out of one of the churches (a renovated YMCA), the center quickly outgrew that space and was moved to an empty storefront. Through word of mouth and social media, they're able to provide resources to affected families according to their needs.
Families' needs span across a variety of areas. Some people need clothing, food, basic household items, toiletries, and sleeping supplies as they occupy temporary housing. Others require buckets, rakes, brooms, shovels, hazmat suits, and first aid supplies to aid in the cleanup process.
The One Thing Missing
Donations poured in—a semi truck full of supplies came all the way from California! Volunteers at the distribution center walked people around to guide them in their item pick-up, figuring out what and how much they need.
But in the rows and piles of canned food, work gloves, and toilet paper, one volunteer noticed a gaping hole in their stock. "We are missing the one thing they need more than anything else. The hope that they need at the center of all that's missing right now."
There were no Bibles.
Troubled about this lack of spiritual help, she lifted her worry to God in prayer: "Please, Lord, let someone bring Bibles."
Little did she know that God had a plan in the works.
God's Provision in His Timing
Days before this volunteer uttered her small prayer for Bibles to be delivered, Concordia Gospel Outreach had connected with Deb to coordinate sending Bibles and children's books to the distribution center.
The shipment was slightly delayed because of the move from the original distribution location at the church to the new location, but Deb, flustered and exhausted, finally made it with the books to the new site.
Unaware that the volunteer had prayed for Bibles to be donated just a few hours earlier, Deb presented them to her and was met with tears.
"This woman expounded to my daughter and to me that 'Clearly, God has had this in the plans for many days already, but the fruition came on a day that I would see my prayer answered.' God knew her heart and the needs of the people long before they were asked. It reminds me of when the psalmist cries out, 'Before a word was on my lips You knew it.'"
Deb, originally frustrated at her delay to deliver the Bibles, immediately softened when she heard this woman's faithful prayer. "It was so beautiful to see that her prayer was answered just hours after she lifted it. God had everything in process already, but answered it for her in His timing!"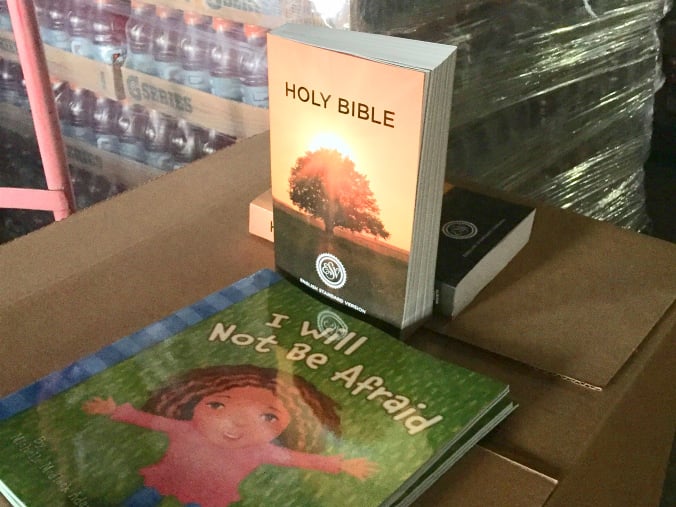 "Really?"
The donation center, now filled with cases of Bibles and children's books, was ready to provide for the physical and spiritual needs of the people.
Deb recounts a number of families who came in to graciously receive cleanup supplies or food but now also received God's Word. When Deb asked these families if they'd like a copy of the Bible or I Will Not Be Afraid, most responded with one word: "Really?"
"These proud farm families find it tough to receive," Deb said. "Everyone has been so humble—they don't want to take away from someone else who has needs. But I haven't had one person refuse a Bible."
Next Steps
Even though the floods occurred nearly a month ago, the cleanup is only just beginning. Many people are still in temporary housing and will be for the foreseeable future. Bridges and roads are slowly being rebuilt. The pick-up of supplies is just now getting in full swing, as people are finally able to make it to Columbus since the waters have receded.
So while the press has moved on to other topics, the flooding and its damage is still very much the reality for Nebraskans. The cleanup is just getting started, so the distribution center is readied with supplies. But the crew at the center isn't focused on how long they'll be open, or how long they'll need to organize volunteers.
"Until the supplies run out or the need changes," Deb confidently states, "we'll be at the ready."
---
If you'd like to support the distribution center that Deb works with, or if you live in Platte/Colfax Counties and need assistance, check out the Platte/Colfax Counties Flood Recovery site.