Imagine struggling to find community, but you can't afford housing and need to keep moving. You've had a cough for a month, but you don't have health insurance so you can't afford to see a doctor. And you have a Bible, but it's in a language you don't understand.
For many people in the United States and around the world, these struggles are part of daily life. They certainly are for some people Pastor Miguel Sanabria serves in Tampa, Florida.
Disconnection from the Bible
Pastor Sanabria and seven other church workers—two other pastors and five deaconesses—serve five hundred Hispanic Lutherans in three locations around the city. These loving servants support the congregants through any and every difficulty.
"They trust us fully," Pastor Sanabria says. "The most important thing is that they look for us whenever they have greater difficulties."
As servants of God's Word, these workers recognize the importance of having a Bible in one's own language. With many Lutheran resources being in English, those who speak only Spanish or are not fluent in English can struggle to understand complex concepts about the faith. A language barrier can be just that—a barrier to growing in Christian knowledge and sharing God's Word with others.
Spanish Biblical Libraries
To remove that barrier, Pastor Sanabria's team started libraries with Lutheran books in Spanish, one library in each of the three locations. The team reached out to CGO for help with getting resources, and CGO sent 286 books—a huge jump start in setting up the libraries!
These resources will help the church workers grow in their professional vocations so they can better serve those God has appointed them to. The books will also assist the Bible studies and prayer groups they lead so congregants can find new materials and grow in their knowledge about Christianity.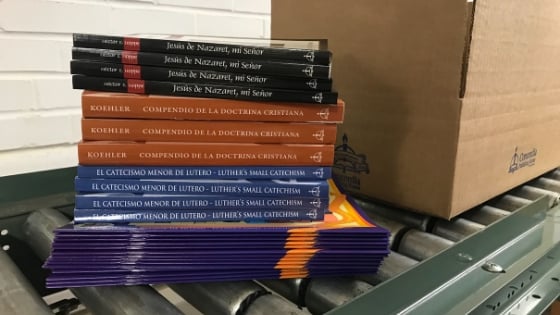 God's Word for All Nations
Readers will gain comfort in having God's Word be in a language they are completely familiar with. Having resources in their language demonstrates that God's love is for all people of all nations, including those individuals. In a country where some Hispanic immigrants and even second- and third-generation immigrants do not have the same opportunities as others, these people are being shown how God loves them equally.
As readers grow in their faith, they will learn how to apply their beliefs to their daily lives. And when they share their faith with others, they will now have the resources they need to help other Spanish-speakers learn about God's love too.
---
You can help send more Bibles to people in their own languages.
Your donation will help CGO send Bible-based literature to individuals and organizations that are striving to connect people with the Gospel.