In the days following the devastating tornado that hit Moore, Oklahoma, and in the months since, Concordia Gospel Outreach has sent more than 2,700 children's books and devotionals to St. John's Lutheran Church and School in Moore and to the surrounding areas. From there, volunteers have delivered these resources to hundreds of displaced and discouraged people. With each delivery, words of encouragement and hope are shared with families trying to rebuild their lives. Volunteer and Stephen Ministry leader Judy Cregan shares her story.
Judy Cregan remembers the words she prayed as clearly as the day she said them.
Dear Lord, please lift it up.
"At the time, I didn't know where the words came from," Judy says. "But now I know they came from God."
As Judy shares her story, her memories of May 20, 2013, flood back, along with emotions that are still very raw. As the mother of two daughters, a grandmother, a resource advisor at Tinker Air Force Base, and a volunteer Stephen Ministry leader with her church, Judy has kept busy—not leaving her much time or energy to talk about the day an EF5 tornado tore apart her town and changed forever the lives of loved ones, friends, and neighbors living in Moore, Oklahoma.
"My boss really saved my life," she says, tearing up as she remembers her impulse to rush home to her daughter Rachel and grandchildren huddled inside their two-day-old storm shelter. "I would have driven right into it trying to get to my daughters."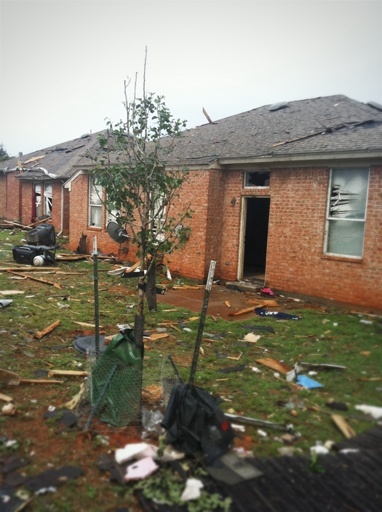 Forty-five long minutes after the tornado passed, Judy received a phone call from Rachel.
"Oh, Mom," Rachel cried, "debris is everywhere." She began describing the scene, and while safely tucked inside her mile-long office building, Judy began to see a horrific picture come to life.
As she drove to her daughter Kari's house, Judy saw for herself the scene Rachel so acutely described.
The street signs were gone. The trees were gone. Homes were gone. But standing unscathed in Kari's backyard was a five-foot tree they had recently planted in memory of Judy's mother. Not one leaf was gone. Two doors down, however, were flattened homes, and from her daughter's backyard, there was an uninterrupted view of the highway a couple of miles away.
The words she prayed came rushing back. Dear Lord, please lift it up.
"We don't know what to pray for," Judy says, "but God gives us the words."
Despite all the bad, Judy sees the good that God is bringing to Moore. Through encouraging words and acts of kindness by so many volunteers, the people in Moore and the surrounding communities are experiencing God's love and His comfort.
Three days a week, Judy and a team of volunteers go into the community to deliver comfort bags, Bibles, gift cards, copies of Portals of Prayer, and food to friends, neighbors, and strangers in need. And there's one particular children's book that Judy especially loves to give to the children.
"I don't think the author could even begin to know how she is affecting our community," Judy says. "God has used her so magnificently."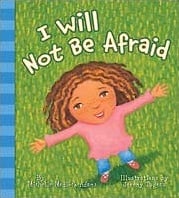 Written by Michelle Medlock Adams and illustrated by Jeremy Tugeau, I Will Not Be Afraid delivers a simple message through simple words and simple illustrations. But the impact it's had on the children and the adults in Moore has been incredible.
"My goal, my dream is for every child in Moore to have one of these books," Judy says, "because they're bringing relief to children who are afraid. Their faces light up when I hand them their book."
This dream Judy has came from several conversations she had with her grandson, Hayden.
"After the tornado, Hayden used to say in his two-year-old voice, 'I'fraid of funder; I weally 'fraid of funder,'" Judy says. "But after reading him I Will Not Be Afraid, he's begun to say over and over in a loud, strong voice, 'I not 'fraid!'
"That's why every child in Moore needs this book," Judy says.
Provided through generous donations to Concordia Gospel Outreach, copies of I Will Not Be Afraid are making their way into the hands of children and their families one by one. Judy knows all the children in Moore might not receive their own books right away, but little by little she knows it is possible.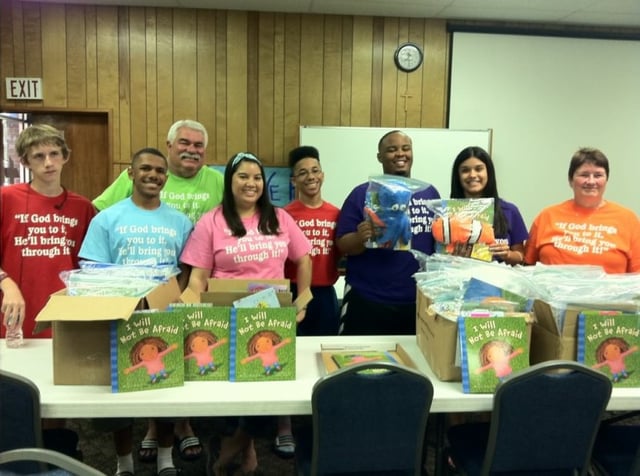 While it's written for children, Judy says the book and the Scripture references are comforting the parents and grandparents, too, as they're sharing God's promises of His love, presence, and grace with kids whose lives have been turned upside down.
"I thank God for Him using [Concordia Gospel Outreach] to provide this book to these people, because the words are helping," Judy says. "I know the road we have is very long, but our mission is to keep going."
And that is what she will do, together with all the many volunteers who are stepping up. They will all keep going, helping their families and their town rebuild—all while sharing the love of God.
"I just want to wrap my arms around the whole world."
Concordia Gospel Outreach is working to bring spiritual hope to people impacted by devastating events. Because whatever the tragedy—flooding or fire, tornado or tsunami—people need to feel secure in body and spirit. Your donations allow Concordia Gospel Outreach to equip teams and individuals to bring God's Word to those in need of spiritual strength.
Our prayer is that we may make a significant impact on the spiritual life of a child . . . a family . . . a community . . . our world.
---