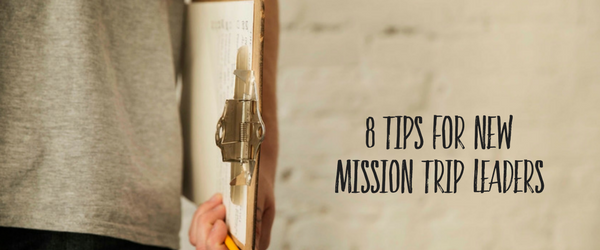 You want me to lead a mission trip? Yes, you.
I doubt any of your shrubs have spontaneously combusted (Exodus 3), and you probably haven't kissed any hot coals between flipping burgers lately (Isaiah 6). But perhaps it was that offhand remark, that compelling line from Sunday's sermon, that mailer you can't bring yourself to recycle. God called His people in ancient times, and He does the same in the twenty-first century. He can use your unique formula of strengths for His service. In some cases, that may look like spearheading your first mission trip. Following are eight excuses why you should ignore that nagging feeling encouragements from the God who may have handpicked you to be His hands and feet in a thrilling new way.
I don't have time. This may be the granddaddy of excuses. When there are seemingly not enough hours in the day, remember that God is the author of time: "He made the moon to mark the seasons; the sun knows its time for setting" (Psalm 104:19). Pray for His help as you prioritize tasks and structure your days according to His will.
I don't know anything about mission trip planning. There's a first time for everything! Plus, you don't have to fly solo. According to Ecclesiastes 4:9, "Two are better than one, because they have a good reward for their toil." If you're taking the reins from someone else, rely on that person. Talk to others in your circle who have previously led mission trips. Read and reread training materials provided by your host organization, and ask questions of your contact. And in this day and age, the Internet is your friend; here's a CPH blog post chock-full of helpful basics!
____________ doesn't think I can do it. While relying on others for support is crucial, there are bound to be some detractors in your midst. The Lord's words to Isaiah (2:22) provide sweet assurance: "Stop regarding man in whose nostrils is breath, for of what account is he?" Ultimately, it is Christ who gives what we need to accomplish what He would have us do.
No one will listen to me. Moses said the same thing (Exodus 4:1–9). God nonetheless chose him to lead hundreds of thousands of people through the desert for four decades, and accompanied him every step of the way.
I don't speak [insert language other than English here]. This is often an obstacle for potential participants and leaders alike. But say it with me: actions speak louder than words! Matthew 5:16 prods, "Let your light shine before others, so that they may see your good works and give glory to your Father." Chances are your host organization will provide interpreters if needed, and you'll be amazed at what you recall from high school Spanish or those Rosetta Stone tutorials that were last year's New Year's resolution.
I can't afford a mission trip. Repeat after me: The. Lord. Will. Provide. The Lord. Will Provide. The Lord will provide. "Bring the full tithe into the storehouse, that there may be food in My house. And thereby put Me to the test, says the L

ORD

of hosts, if I will not open the windows of heaven for you and pour down for you a blessing until there is no more need" (Malachi 3:10).
Aren't mission trips dangerous? Traveling poses certain risks, true. Mitigate them by staying abreast of government alerts, trusting your host organization, and taking precautions. Scripture has the last word here as well, as the Almighty's protection trumps every earthly peril: "[God] is a shield to those who take refuge in Him" (Proverbs 30:5).
Information overload!!! When the medical releases, airline reservations, packing lists, and budgets threaten to overwhelm, let us be imitators of Paul, who "decided to know nothing . . . except Jesus Christ and Him crucified" (1 Corinthians 2:2).
I once heard it said that "God doesn't call the equipped; He equips the called." It's become one of my mantras. We often lack the courage to stand up for and share our faith, but God's Word lays it out in no uncertain terms. We are to teach, preach, and baptize. To boldly proclaim Christ crucified and risen. In a word, to go. The flesh resists, but the Spirit empowers. We've been professionals at crafting airtight excuses since we came down with the flu weekly in middle school, but the God of the universe has been emboldening His people since the dawn of creation. If you're feeling particularly unequipped at the moment, turn to the One who created you for His service and has now beckoned you to it; your assurance is found in Him alone.
Have the promises outlined above stirred you to take action? Share your story! What other uplifting words might you share with someone battling self-doubt? What uplifting words that I didn't mention have others shared with you? As you take the leap, we're anxious to pray for you—and share insider tips in future CGO blog posts—every step of the way!
---