Situated on the north-central stretch of the Gulf Coast, Mobile, Alabama, is rich in culture and history. But not all who call this seaport city home boast of having enough.
The students and staff at Trinity Lutheran School in Mobile know the wealth of God's Word and the burden of limited educational resources.
Christine Weerts, donor and community relations director for Concordia College Alabama, saw Trinity's need firsthand when she visited the school.
"They don't have many whiteboards, they're trying to catch up with technology, and they need a playground," Christine said.
Then, a bigger problem came to her attention.
"I realized they didn't have a lot of Christian curriculum and materials that are needed," she said. "A lot of times, teachers were just going and pulling off the internet to be able to teach their students."
When Christine contacted Concordia Gospel Outreach, we sent boxes of Christmas books and devotionals for every student as well as religious teaching resources for the staff.
Kindergarten and first-grade teacher Sara Bates distributed the books to over 100 excited children.
"Their eyes just lit up!" Sara said. "Everyone was crowding around the boxes saying, 'When are we going to get our books? When are we getting them?'"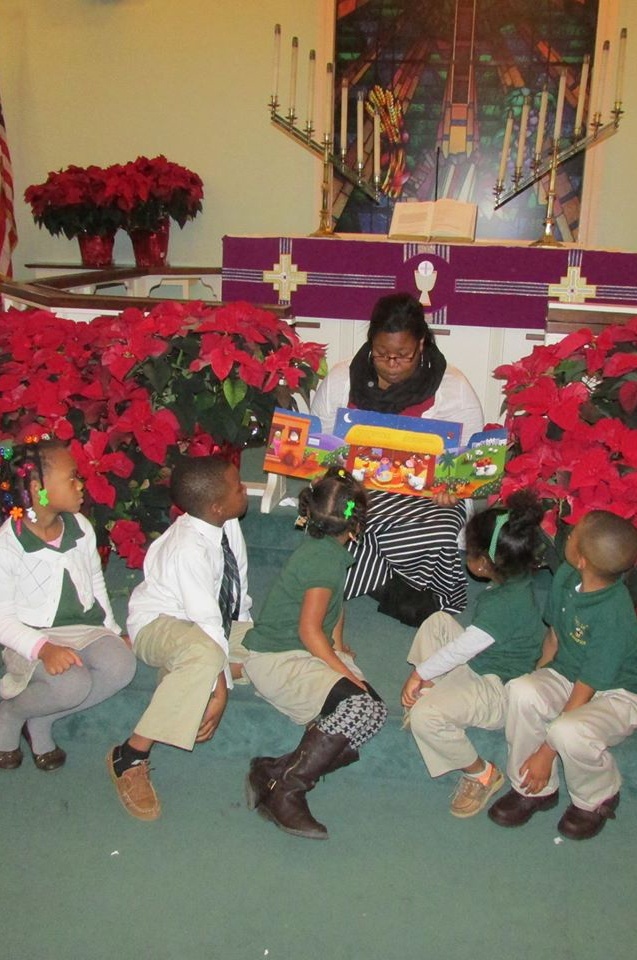 Some of the youngest children took home Peek and Find Christmas Story, a simple retelling of Jesus' birth with fun cut-out windows in the pages. Preschool and kindergarten students clutched their very own copies of My Giant Fold-out Book: Christmas and gathered around Sara for story time.
"I opened it, and they were pointing to the pictures since they know about the birth of Jesus," Sara said. "They were telling me about the story!"
Students were encouraged to share Little Visits: 365 Family Devotions with their parents so each family could study the Bible together. Sara said that some children had Christian material at home, but for many, this was their first time receiving a book of this nature.
Bible lessons are a regular part of classroom time, and Sara said she sees a world of difference now that teachers use One Hundred Bible Stories, a collection of key stories from Scripture that have colorful pictures, helpful notes, and memory verses.
Christine said that before Trinity received the gift of books, teachers often created classroom devotions based on Portals of Prayer. Portals features a Bible reading, devotion, and prayer, but not application activities for children.
"Normally, we would have to formulate our own questions to teach Bible stories," Sara said. "But One Hundred Bible Stories has its own questions, and the teachers absolutely love using it every day! It takes the stress off them."
From school-wide chapel every Wednesday to each student's daily time exploring Scripture, Sara said she appreciates how each child at Trinity can "freely talk about God and tell their parents all they learned."
"It encourages and inspires the parents, knowing that Christ is being taught to their children," she said.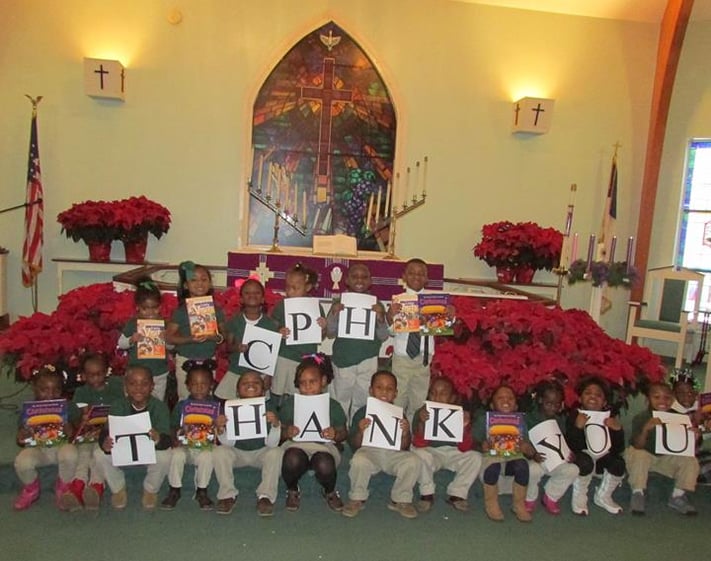 According to Sara, families of the students were deeply touched by the gift from Concordia Gospel Outreach.
"The mom of one of my students actually went out to buy a bookshelf so her son could get more books like this!" she said.
Sara told her students that their special Christian books can be the first in a collection they can read to their own children someday.
For the students of Trinity Lutheran School, these books mark a beginning.
Your support of our Children's Outreach Initiative will help us meet the needs of children like the students at Trinity Lutheran School as well as youth and their families worldwide.
---