If you've ever had to go through customs, you might be able to relate—at least in part—to the experience Deaconess Olga Preisz Groh had on her way to Nicaragua last year.
As the Care Ministry Director of Lutheran Urban Mission Agency (LUMA) in Kansas City, Missouri, Groh works with area congregations to train those working in cross-cultural ministry and provides spiritual support and encouragement to individuals in the surrounding communities. And in early 2014, she was asked by Rev. Dr. David Somers and Rev. Dr. Leonardo Neitzel of the Lutheran Church—Canada (LCC) to go beyond her day-to-day work to design and lead a weeklong seminar and retreat for deaconesses of the ILSN (Iglesia Luterana Sinodo de Nicaragua).
"It's actually quite a funny story," she said, remembering the rocky start to her adventure. "When I was going through customs and security in Nicaragua, I was stopped and told that I couldn't take my suitcase outside customs!"
You see, inside this particularly heavy piece of luggage were fifty hardback books. Donated by Concordia Gospel Outreach to support the work of Deaconess Groh and the ladies in Nicaragua, Leyendo los Salmos con Lutero (Reading the Psalms with Luther) is a book that applies the message of the psalms to life lived under the cross—a wonderful resource, especially for women serving in the role of deaconess.
Groh titled the seminar Diaconal Life in Community: Worshiping, Working, Studying, Being Fed, Praying and Listening (in Spanish, Vida diaconal en Comunidad: Adorando, Trabajando, Estudiando, Alimentando, Orando y Escuchando). She designed it to provide the opportunity for a group of Marthas to be like Mary—to take a moment to sit at the feet of their Lord and find strength in His presence and His Word.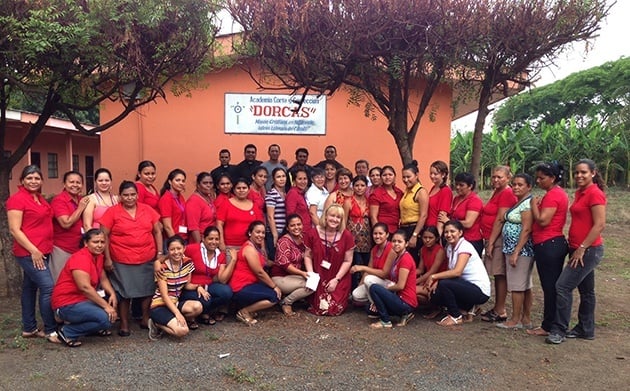 "My goal was to provide an environment where a group of forty-two women could be refreshed spiritually, emotionally, and physically," Groh said, explaining that the deaconesses serving in Chinandega, Nicaragua, and the surrounding areas are working amidst much pain and suffering because of extreme poverty and broken families.
From eight in the morning to eight at night, the ladies participated in an intensive yet intimate week of training and rejuvenation. Together as sisters in Christ, they had "the opportunity to worship together, sing and pray, read, learn, discuss and meditate, serve, work and eat, and together live and reflect on the intertwining of God's Word and Sacraments in the life of the Church and in the life, service, and sisterhood of deaconesses" (from See What the Lord has Done, Tapestry, Vol. 21, No. 2).
"When we got to the topic of serving, suffering, and especially serving in the face of challenges, I handed each lady their very own copy of Leyendo los Salmos con Lutero, and from then on we used the books for devotions and prayers," Groh said. "I was told that these women don't have many chances to get hard copies of teaching materials in their hands. They loved them, and they took them home."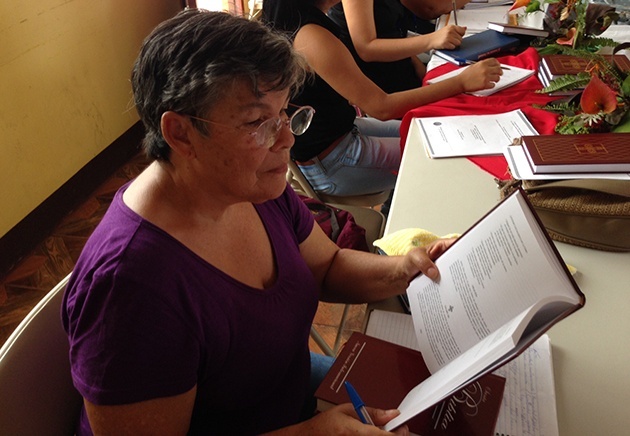 Groh explained that the women can see in the psalms that, like David, they can put their trust and confidence in the Lord, especially when facing much suffering and many challenges. All week, the ladies were reminded that they are one in Christ, united in the same faith, and that Christ sustains them every day in their struggles as they go about life and serve.
"Books like the Bible or this little book [Leyendo los Salmos con Lutero] are gifts that go beyond having something to set beside your bed, because they aren't just books," Groh said. "These women know that inside is the Word of God—that they can open it up, read, and hear from God."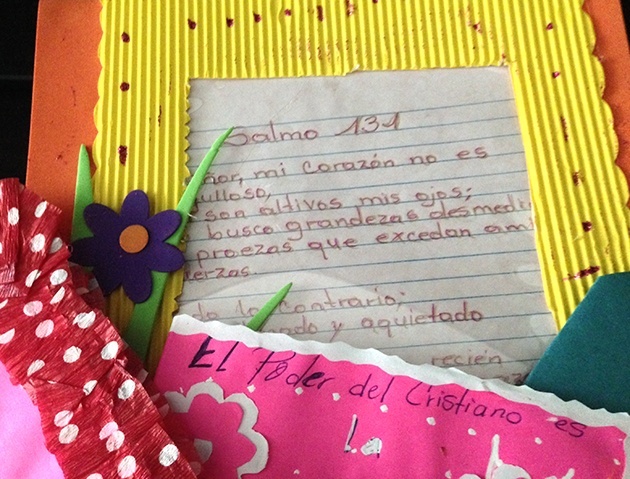 We need your help to continue the mission. Concordia Gospel Outreach is able to send the Gospel all over the world because of the generous support of our donors. Every donation goes toward sharing the Gospel with someone who might never know Jesus. We encourage you to partner with us in this important work.
---