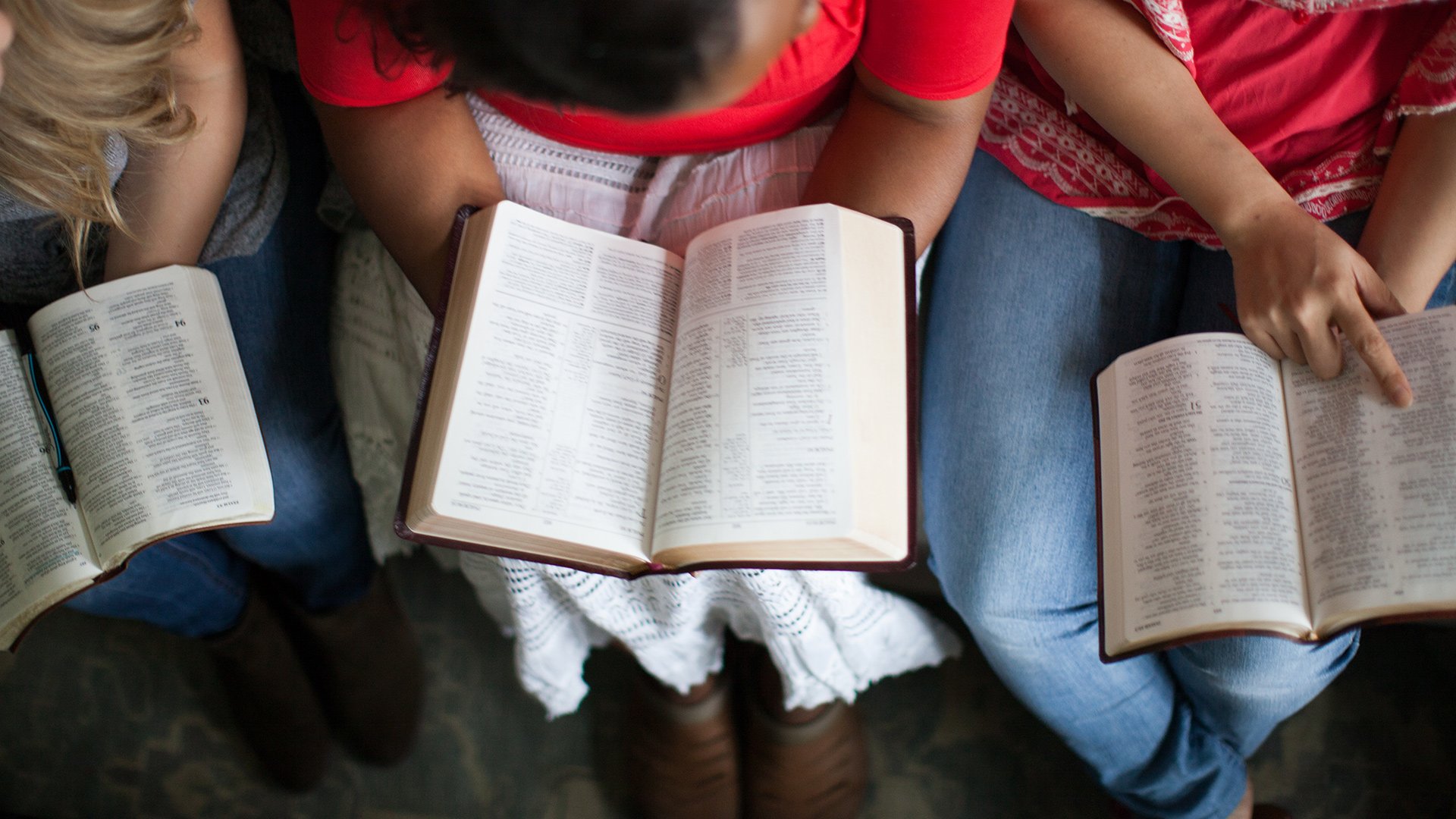 My husband's story of faith is miraculous. He was born to two loving Christian parents, had an infant baptism, was confirmed in eighth grade, and grew up knowing Jesus as Lord. In his senior year of high school, he became aware of God calling him to pastoral ministry. Now, here we are at the seminary.
One of my best friends grew up in a denomination that doesn't believe that the Bible is infallible. Her family was actively involved in the congregation, and she enjoyed it. But she was always questioning that position, always thinking, "If some of it is false, how can I trust the rest of it?" In college, she learned from professors to articulate why the Bible is God's true and inerrant Word. She married an LCMS pastor. Miraculous.
The girl who ended up my maid of honor grew up in the church but without her (very much alive) parents. Another good friend came to faith in her Lutheran high school during religion class. Another struggled with the problem of pain. And another is a lifelong Lutheran whose parents' involvement in the Church inspired her walk with Jesus.
All these stories are the miraculous work of Jesus Christ. And throughout Scripture, we see that we are called to tell others about what Christ has done in our lives.
Woman at the Well
My junior year of college, I fell in love with the John 4 account of the woman at the well. I had listened to someone speak on it, and it changed my life.
In this account, we see that Jesus knows the woman's painful past. And He lets her know it, and then He forgives her. It's what happens after her encounter with the Christ that shows us how Jesus can use a person's sin for His good.
In John 4:28–30, we read, "So the woman left her water jar and went away into town and said to the people, 'Come, see a man who told me all that I ever did. Can this be the Christ?' They went out of the town and were coming to Him." She tells them that He knew all she'd ever done.
Further on in the chapter, we read that "many Samaritans from that town believed in Him because of the woman's testimony, 'He told me all that I ever did'" (v. 39). Her testimony encouraged them to seek Jesus.
For everyone who reads this, I am sure there are skeletons in your closet that you would rather not let people in on—that even if you know you are forgiven, you would rather no one ever find out that God forgave you for that specific thing. It could be an addiction or an action, a mistake or something embarrassing you used to believe. Any way you slice it, you'd rather that thing stay hidden. But Jesus' forgiveness is incredible and powerful. It can turn the worst things into the biggest praises for Christ.
Job
My freshman year of college, I took a class titled "Fearfully and Wonderfully Made: Themes of Medicine in the Old and New Testament." I was still a newer Christian, and I was very excited to explore the Bible academically. This class was the one that probably had the most impact on growing my faith, and one of the ways it was impactful was through our study of the Book of Job.
To make a long story short, in Job, we read about a man who follows God and is blessed in his life. Then he loses pretty much everything, including his children and his health. The suffering runs deep (Job 7). His friends and his wife pretty much beg him to turn away from God, and for a while, he refuses to. But then his grief weighs down on him, and Job no longer feels that God is with him (Job 30:16–23). Starting in Job 38, God directly answers his questioning and Job comes out the other side of his suffering blessed beyond belief.
Like many others, I struggle to reconcile a God who is all good with the brokenness of a sinful world. Job's faith journey shows us the hope that Christ gives, despite us not knowing what is going to happen in our lives, despite suffering, and despite our pain. His story reminds us to share our pain with others and to lean on faithful friends.
Luke 8:26–39
In this Gospel account, we see Jesus remove a ridiculously overwhelming amount of demons from a man. He casts them out into some nearby pigs, which then run off a cliff. Unlike other accounts of Jesus' healings, where people nearby flock to Christ, the townspeople ask Him to leave. And He does. The man he cast the demons out of wants to go with Him, but Jesus tells him to stay. He tells the man, "Return to your home, and declare how much God has done for you." (Luke 8:39). This man wasn't asked to leave like Jesus was, and so now the man can teach others about Jesus through the story of his own transformation—starting with his own household.
It can be difficult to share this good news with those you are close to, especially when they actively don't want to believe you. The farmers in Luke 8 must have thought, "How can this man be good if He destroyed my livelihood?" But through the spoken Word coming from the man with (now without) many demons, we know Jesus was able to continue to work in their lives.
Maybe you're scared of being known as the "Bible thumper" or "overbearing Christian" but God has placed you in the lives of those around you for such a time as this. Telling those around you about what Jesus has done for you may make you nervous, but you can know that you are not alone.
Be content with what you have, for He has said, "I will never leave you nor forsake you." So we can confidently say,
"The Lord is my helper;
I will not fear;
what can man do to me?"
Remember your leaders, those who spoke to you the word of God. Consider the outcome of their way of life, and imitate their faith. Jesus Christ is the same yesterday and today and forever. (Hebrews 13:5–8)
Your story may not seem as intense or page-turning as any of these accounts or the stories of other people around you in your life. But Scripture shows us that in our Christian vocation, we are to tell of what Christ has done in our lives.
Scripture: ESV®.
---
Help others learn about what Christ has done for them.