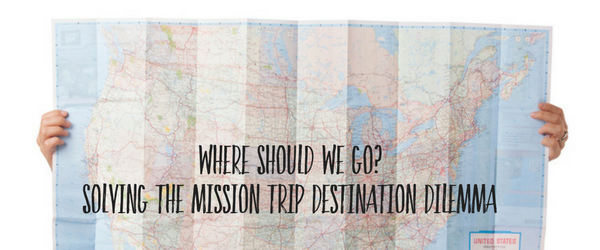 Jerusalem. Judea. Samaria. The end of the earth. Essentially, Acts 1:8 doesn't narrow it down much. The four locations Jesus cites represent, to His audience, the cultural and geographic poles of similar/dissimilar and near/far . . . and everywhere in between. Armed with the power of the Holy Spirit, we are to be walking testimonies of our faith. Everywhere. It's true that witnessing doesn't require leaving the confines of home, but, like Isaiah (see 49:6), God has called you to more far-reaching ventures! You've committed to leading a trip someplace; it's time to get into the nitty-gritty. First up: where should you go? The options are inspiringly and frustratingly limitless. Here are eight factors to ponder when determining whether you'll serve in a different zip code or on a different continent.
Preexisting relationships. Does your church support any long-term missionaries? A field visit would encourage them immeasurably. Does your campus ministry sponsor a child every Christmas? See if there is a mechanism in place for connecting you with your adoptee.
Team composition (if known). If you haven't begun the recruitment process yet, don't fret; my next post will feature some best practices. If you have, though, reflect on those God has assembled—and remember that God has indeed assembled them! A small group of seasoned adults can bless a ministry differently than a rambunctious thirty-seven-person youth group. Similarly, teams featuring nurses, teachers, musicians, contractors, those conversant in other languages, etc. can be extraordinary assets.
Timing. Circumstances on both ends—yours and your hosts'—can affect plans. Are there church events or observances you shouldn't conflict with? Do you anticipate significant involvement from youth—or teachers—who are bound by the school calendar? Are there registration or payment deadlines to bear in mind? What's the climate like in a few places you're considering? When we're breaking out the sunscreen and sandals, our brothers and sisters in Christ south of the equator are bundling up in scarves and snow boots. Precipitation and elevation may factor in also.
Length. Three days can be just as impactful as three weeks. You'll want to make sojourning halfway around the world worthwhile by spending more time on the ground than en route, whereas nearby projects often fit neatly into a long weekend. At times, your host organization will dictate your arrival and departure dates and trip duration.
Rusticity. Personal experience has seen me poking my head out of my tent to check my shoes for scorpions every morning and, conversely, slipping into a fluffy bathrobe after an afternoon dip in a palm-tree-shaded infinity pool. Mission trips should be sacrificial experiences that get you outside your comfort zone, but your team's willingness to stretch themselves . . . and your willingness to be around people who haven't showered for days . . . is of legitimate concern.
Documentation. This one is of particular consequence for international travel, which will likely require a passport or other government-issued ID, and potentially a visa. Additionally, customs may limit the type and quantity of evangelistic materials and other supplies you can transport, or you may need to obtain special permission. Spend some time doing your research. Based on #3, will anyone who doesn't possess the required credentials have time to acquire them?
Location. The real estate adage rings true: location, location, location. If you've already ruled out going overseas, stop and think about where you already are. Is your church a hop, skip, and a jump away from a struggling inner city, a church camp, a Native American Indian reservation, an area affected by a recent natural disaster, or some other setting that could benefit from and is equipped to handle volunteer labor?
Cost. The Lord will provide, but do factor in your anticipated budget and the amount of time and effort you're willing to invest into fundraising (which happens to be the topic of yet another future blog post!).
In the Book of Revelation, the apostle John relates his glorious vision of heaven (7:9–10). Which nation, tribe, people, or language will the Holy Spirit call to repentance and faith through your labors? Deciphering where the Lord desires you to serve can be daunting, but rest assured that there's no wrong answer! Nevertheless, perhaps one or more of the points above will help you hone in on providing the most fruitful experience possible for you and your group.
Well? How did you narrow the field and ultimately make sense of the Lord's will for you and your group? We can't wait to learn where the Gospel is going to be sown next, and there are plenty of others out there who could benefit from your experiences. Share your story by commenting below!
---