Jenny Cree works with little people all day, so she knows that big things can come in small packages.
Jenny is the first-grade teacher at Salem Lutheran School in Orange, California. During the holidays, the school's adjoining church gives its congregants a challenge: to spread hope to others through giving. Jenny wanted her students to learn that even a small act of giving can do just that.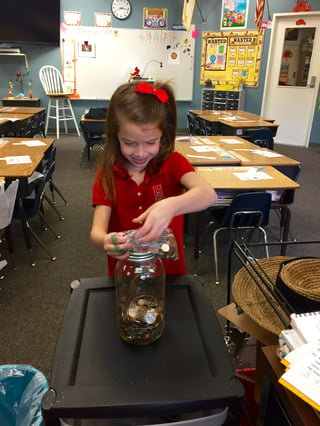 "I decided to come up with a simple service project that my first graders could actively participate in," she said. "As a class, we decided to collect loose change from our couches, school campus, and cars, and use the coins collected to help others."
The plan came together easily: the students were on board, and Concordia Gospel Outreach was chosen as the recipient for the donation. But there was a problem. The twenty-five first graders couldn't change the world on their own! So they created posters to hang around the school, told their parents, and even got their grandparents involved.
And news of the project spread like wildfire.
Students from the entire school began bringing in coins—and bills too! According to Jenny, "They reported that they found the most coins in their dads' trucks and cars."
The grand total? A whopping (and exact) $223 in loose change. But the story doesn't end there.
The students left for Christmas break, enjoying a rest from their hard work and thinking that their special December project was over. Little did they know that their teacher had something else up her sleeve!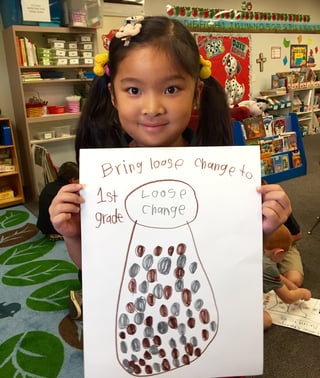 Eve Brandes, CGO's development coordinator, had come across a blog post Jenny had written about her class's project. So during Christmas break, Eve got in touch with Jenny and they coordinated a surprise thank-you gift to the students for their generous donation. And along with the CGO goodies came a homework assignment: each student should write a letter about his or her favorite Arch Book, and the letter will be included with a book that CGO sends somewhere around the globe.
The students were delighted by the surprise in their classroom on their first day back! "I read your note to the kids and it brought them much joy," Jenny told Eve. Jenny also reported, "My first graders have written letters to [new friends] about their favorite Arch Books."
And according to Jenny, her class doesn't want to stop there.
"The students voted unanimously to keep collecting 'Loose Change to Change the World' and donating to Concordia Gospel Outreach!"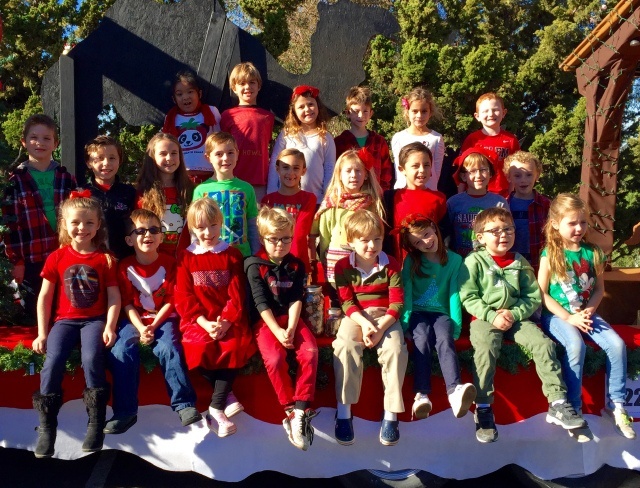 Looking for an easy way to make a big difference? You, your family, or your church can make an eternal impact on someone's life through a simple service project like this. Every donation goes toward sharing the Gospel with someone who might never know Jesus. Learn about our three outreach initiatives, and please consider partnering with us in this important work!
---