In western Iowa, just outside the small town of Mapleton, is a set of old farm buildings that have been transformed into Mission Central—the largest LCMS mission-supporting agency in the United States. What was once the hog house is now a fellowship hall; the barn is the worship center; and the old house was renovated to include offices, a kitchen, and rooms for visiting missionaries and their families.
"Never did we envision what God had in mind," said Gary Thies, known as Old Missionary Gary. "Nearly 21 years ago, my wife and I stood in the basement of our home and prayed that God would send us people who are different—people who don't say, 'Something ought to be done,' but rather people who say, 'I have to do something.'"
Today, Mission Central is run by a dedicated team of 68 volunteers who handle the generous gifts of more than 8,000 individuals and families praying for and supporting LCMS missionaries.
"This last year, more than 100 missionaries came here to report on the work they are doing and the work God is doing through them," said Gary. "They come from all over the world—from Thailand, Kenya, Papua New Guinea, South Africa—and we have more coming."
But the work of Mission Central isn't solely focused on international missions.
Right in Mission Central's backyard is Denison, Iowa, a small town that many Hispanic immigrants now call home.
Recognizing the need to share Christ with this growing community, Gary reached out to Concordia Gospel Outreach to see if there would be opportunity for a partnership. So when a large shipment of Spanish Arch Books from CGO arrived at Mission Central, Gary quickly made contact with Rev. Kaiser and Tammy Langfield—the pastor and principal, respectively—of Zion Lutheran Church and School in Denison.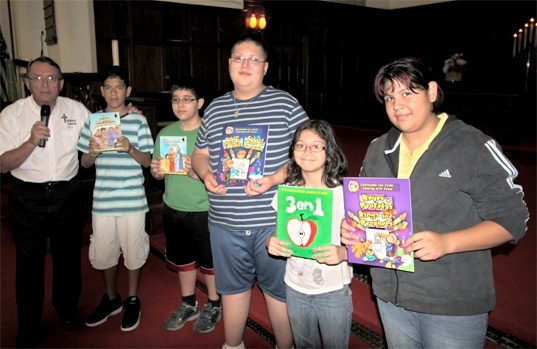 "In the community where more than 50 percent of the students are Hispanic, the Spanish Arch Books are considered such a blessing for the entire community," said Gary. "The students and the faculty and the parents were excited to share the Arch Books with the children who had never heard about Jesus."
On August 27, 2014, Gary and three missionaries visited Zion for a special chapel program about missions in Denison, Iowa, and around the world. There, students, faculty, and parents watched as Gary presented the Spanish Arch Books to the students, and together they all prayed for the work of the missionaries who were headed to serve in Germany and Uruguay.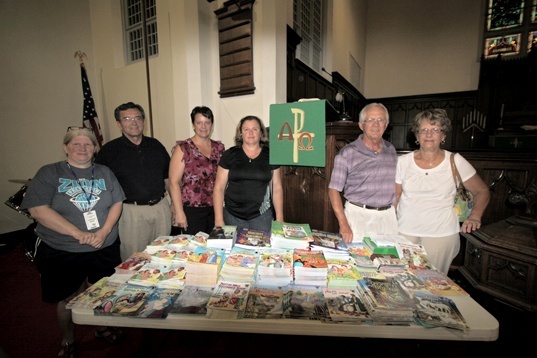 "What a wonderful mission tool!" said Gary. "What you guys helped us with is much greater than you realize! Thank you!"
---